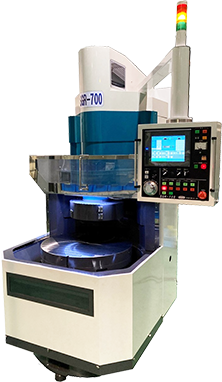 Precision fabrication comparable to a lapping grinder at the working speed of a vertical rotary grinder,
As the size of hard-to-cut material is increasing, higher performance for grinders is required in addition to precise fabrication and cutting speed.
To cope with such a situation, Shinko Manufacturing has developed a "ultra-precise vertical rotary grinder" that enables machining with a precision comparable to a lapping grinder.
Maintaining the advantage of a highly efficient vertical rotary grinder, the product provides high precision and rigidity that can fabricate a semi-conductor ceramic board in-addition of heavy duty grinding of common metal.