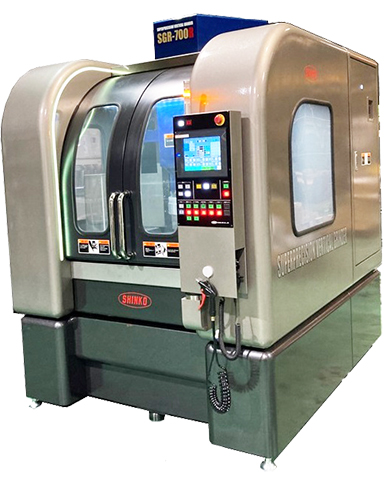 "IOT/Wi-Fi" Communication function. (Options)
The state can be monitored from the remote place with tablet and
smart phone.
"GSA system"Grinding pressure power self
adjustment mechanism.[Patented]
Grinding pressure power is not given to the material, it becomes
possible to suppress the damage to the grinding surface dramatically
and a highly accurate precision working can be done.
Equipped with power saving motor.
The motor of the low noise and the power saving standard is installed.
Three point mounting fixation method table
inclination adjustment mechanism of company's
in-house development. [Patented]
The slope adjustment of the table can surely be done by the submicron unit.
Permanent electromagnetic chuck table by the standard specification.
The permanent electromagnetic chucking table doesn't give the material the thermal effect.
The ultraprecision machining of the submicron can surely be done as a result.
Space saving and easy operation design [patent pending]
SGR-70SP is adopted a new lifting system for spray protection cover.
Conventional table cover that opens and closed on the sides makes wasteful space that is problem.
The new cover lifting type, however,solved this problem. When down the cover, it opens a 240-degree field of woeking space so thatoperator can change jig etc.
without any stress. It improves productivity as well safety.
Machine specification (standard)
Correspondence work maximum size
400mmH×700mmφ×200kg
Diameter of table
700mm
Diameter of grindstone wheel
400mm
Amount of minimum incision
0.001mm
Wheel spindle incision speed
0.001~1.500mm/min
Grinding lubricant tank
Dirty tank in upstream. 130liter
Grinding lubricant
Water soluble grinding lubricant
Mist electron collector
Standard equipment
Ilumination
Standard equipment / Type LED
Size of machine (main body)
1530×2025×2069H(2411H)
Weight (Only the main body :)
5,100kg
Options
IOT/Wi-Fi Communication function
Automatic measurement grinding device
Main grinding lubricant tank
Grinding lubricant tank by stainless steel
Grinding lubricant cooling system
Manual sending type feeding paper filter
Magnetic separator
Vacuum adsorption unit
Centrifugal separator
■External appearance