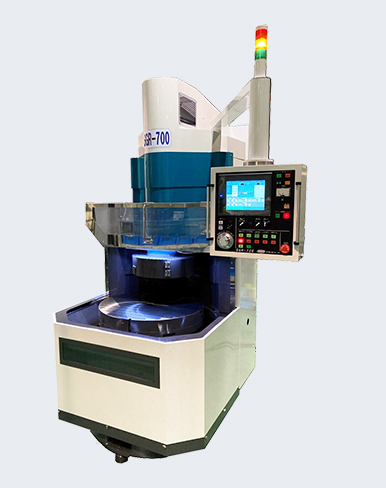 Drastic energy saving effect
IE3 standard motor compliant with "Energy Saving Law"
A drastic power consumption reduction can be achieved compared to legacy products when combined with the power saving effect of the permanent electromagnetic chuck
Auto-adjusting mechanism of Grindstone grinding pressure [Patented]
Chips and damage to the grinded surface can be reduced since only the necessary grinding pressure is applied. Precision machining can be applied not only to common materials but also to hard-to-grind materials.
Proprietary three-point supporting fixed table slope regulation mechanism [Patented]
Our proprietary mechanism is used for three-point support and the contact fixing method with the table. The table slope can be precisely and reliably adjusted by a sub-micron level.
Standard equipped with a permanent electromagnetic chuck table
The permanent electromagnetic chuck requires power only when absorbing and detaching the work material and becomes "permanent magnet" after absorbing the work material. Sub-micron level ultra-precise machining can be performed since there is no heat impact on the table of the work piece.
An elevating splash-guard cover is employed [Patent pending]
The splash-guard cover (front cover) can be opened automatically to the vertical direction. It provides not only good design but also facilitates working space when opened to 240 degrees in the front of the machine. It also allows better positioning and the operator can change set-up easily.
In addition, as it opens to the front, it is easy to install other devices such as an auto supply and discharge device. Also, can be utilized for diversified purposes such as integration to the automated line.
Automatic grinding size control system (optional) [Patent pending]
The newly developed automatic grinding size control system is different from the legacy size controller in that it allows automatic grinding by specifying the dimension (in value) of the work finishing. As the system measures the dimension (thickness) of the work material and the remainder of the grindstone at the same time, work errors can be avoided and the time required for set-up change can be significantly reduced. Thus allowing a wide-range of users from beginners to experienced.
Mechanical specification (Standard specification)
Correspondence work maximum size
H400mm×φ700mm×300kg
Diameter of table
700mm
Diameter of grindstone wheel
400mm
Amount of minimum incision
0.001mm
Wheel spindle incision speed
0.001~1.500mm/min
Protective cover
Vertical motion slide door
Automatic grinding program system
Standard equipment
Automatic concentration oiler
Standard equipment
Ilumination
Standard equipment / Type LED
Size of machine (main body)
W1050×D1980×H222(mm)
Weight (Only the main body :).
4100kg
Options
Grinding lubricant tank (Max 400L)
Magnetic separator
Manual sending type feeding paper filter
Grinding lubricant cooling system
Mist separator
Centrifugal separator
Automatic disposal centrifugal separator
Automatic measurement grinding device
Vacuum adsorption unit
Air gan and water gun unit
Signal tower
IOT/Wi-Fi Communication function
■External appearance