Our accumulated experience (know-how) and inherited technologies are fully leveraged in diverse domains.
Here are our in-house developed/designed products.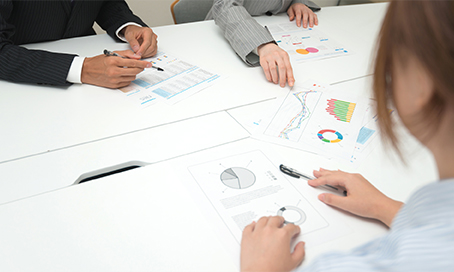 Development, design and manufacturing of various special-purpose machineries and manufacturing of OEM systems
To continually enhance our technical competence , we have taken up challenges to develop facilities in diversified industries and created high-precision and value-added products.. We try our best to address your request that has been turned down by other suppliers
Our experienced specialist staff has full knowledge of product performance and understands customer requirements. Please do not hesitate to contact us with any request.

Please consult us for development, engineering and manufacturing of special-purpose machinery. Also, for assistance in manufacturing your original system.

[NOTE]
*As most contracts do not allow us to disclose the content of the system development, only a part of the actual cases are presented here.
Laser machining equipment
Ultra-small diamond dice machining equipment Glass tube cutter
Electronic-beam surface finisher
Carbon resin product manufacturing system
Manufacturing of carbon resin products including CFRP.
Vacuum technology
From manufacturing vacuum center valve to vacuum equipment in general
Plastic molding machine
Blow molding part and bottle molding line in general
Printer
Tube printer, offset printer, screen printer, etc.
Bulb manufacturing machine
Bulb manufacturing line for automotive industry, CCFL bulb manufacturing line in general
LCD panel production system
Manufacturing of LCD panel production line ancillary systems in general
Electronic parts manufacturing system
Slicer of various electronic parts, chip mounter, jumper insertion machine, dispenser, etc.
Semi-conductor manufacturing system
Crystal cutter and machining system in general
Production and manufacturing of machine tools
Development and production of machine tools including rotary grinder, injection molding machine, EDM machine, turning machine, wire electric discharge machine, broaching machine and machining center. Development and manufacturing of critical parts
Various assembly machines
From standard assembly machine to special assembly machine. Rotor assembly machine, etc.
Aluminum tube manufacturing line
Entire lines from internal and external coating machine, printer, drying furnace, washing machine to packing machine.
Food production system
Noodle production machine, special oven for food, conveyors in general
Systems related to manufacturing of aircraft parts
Jet engine parts manufacturing and special machining systems
Manufacturing of medical system parts
Manufacturing machine of critical parts of CT scanner and production of artificial heart/lung
Card reader
Manufacturing of card readers for different company's home and abroad
High-speed shearing machine
Non-ferrous metal precise shearing machine
Other, diversified applications

Loader
This is a system that loads the glass substrate set in the cassette into the next process in a regular interval. It is replaced automatically after accommodating glass, as a group of two cassettes with glass case
Unloader
This is a system that accommodates the glass substrates that are delivered from the precedent process by branching to the cassette in a regular interval. It is replaced automatically after accommodating glass, as a group of two cassettes without glass case.
Buffer
It is a system that buffers the glass substrate temporarily when setting the systems before and after the line.
US cleaner
This system excites the foreign substances attached to the surface of the glass substrate by vibrating the surface using ultrasonic blow, removes them by detaching and sucks them.
Rubbing machine
The system rubs the oriented film applied on the LCD glass substrate. Two rollers are used for the rotation mechanism for rubbing. The bias angle of the rubbing roller is revolving and variable with ±35 degrees. The rubbing angle is set by rotating the absorption table.
Drying furnace
The system heats and dries a glass substrate by placing it on the heat plate.
Down conveyor
The system inverts the glass substrate to 180 degrees and sends it to the downstream equipment. It receives the glass substrate that is delivered from the ultrasonic dryer and washer in the line on the seal side, inverts the surface to the other and send it to the downstream equipment. It contains a mechanism that revolves the glass substrate to 180 degrees (configurable) before inverting it on the seal side, allowing a horizontal or vertical panel layout when engineering a product.
Super imposer
The system detects the alignment mark on the seal-printed upper and lower glass substrates and superimposes them referencing the mark (one of them is seal-printed).
Cloth winder
The system loads a rubbing cloth on the rubbing roller and levels the rubbing cloth evenly by rotating it.
Conveyor
A conveyor is used to adjust the speed of conveying between different systems and before and after a system.
It is a system that is used when the glass substrate has to be conveyed by turning it by 90 degrees due to layout restriction.